New York University
Interactive Telecommunications Program
Beecosystem
Dana Abrassart, Kadallah Burrowes, Chester Dols, and Jenny Lim
Beecosystem connects brewing and beekeeping with a genetically modified brewer's yeast that synthesizes beta acids from hops as a byproduct of fermentation. These beta acids supplement or replace hops in beer brewing and help protect bees from parasitic mites.
Stefani Bardin explores the influences of corporate culture and industrial food production on our food system and the environment. She works with neuroscientists, biologists, engineers and gastroenterologists to ground her research in the scientific world. These investigations take the form of single and multi-channel videos, immersive and interactive installations as well as tools for measuring and/or mediating these influences. She is based in New York and teaches at ITP and Food Studies at NYU and Food + Design at Parsons.
Elizabeth Hénaff was born of French/American parents in Austin in 1981, grew up in France, and has since lived in the US, Japan and Spain. She received a BS in Computer Science, an MS in Plant Biology (both from UT Austin) and a PhD in Bioinformatics from the University of Barcelona. Her interests in biological interactions and data visualization have inspired her to create interactive installations, and she has collaborated with artists and musicians in Barcelona, Paris and New York designing custom interactive visuals for their events. She currently works as a postdoc at the Weill Cornell Medical College in New York City.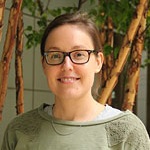 Leslie Mitchell received her PhD from the University of Ottawa in Canada and is now a postdoctoral fellow in the lab of Jef Boeke at NYU Langone. She is interested in chromosome and genome engineering in both yeast and mammalian systems and has worked on all aspects of the international Synthetic Yeast Genome Project, Sc2.0 (www.syntheticyeast.org), which aims to build a designer yeast genome from scratch.