New York University
Gallatin School
Float Farm
Ayaka Habu, Carter Bird, Theo Mandin-Lee
Set in a once derelict dry dock in the Brooklyn Navy Yard, Float Farm is a greenmarket powered by an algae roof and housed on a barge. The barge contains a small fishery, a garden, and a bioreactor to create a self-sufficient and environmentally sustainable structure.
Think Tank
Jessica Son, Karen Choi and Martin McNeish
This marine research station is built with a coral-like skin and is used to develop habitation strategies for coastal cities facing rising sea levels. The building is split between research facilities for underwater architecture, energy production, and food cultivation and a museum of aquatic living for the public.
Tidal Lab
Tianyu Yang, Marta Elliot and Molly Ritmiller
A lab set on a rail above an artificial intertidal ecosystem, the students envision developing a system of soft boundaries between urban areas and the ocean to mitigate urban flooding while simultaneously developing a new coastal economy where these areas could be harvested for oysters and edible seaweeds.
Water Dock
Nan Zhou
Water Dock is a living art installment devoted to tiny marine life like cyanobacteria, dinoflagellates, and plankton and the threat of water pollution imperiling the ocean. Viewers walk through an underwater gallery surrounded by tanks of both these organisms and the pollutants.
Algae Center
Nina Weithorn, Kody Carpenter and Owen Smith-Clark
A living skin of algal capsules power this proposed building. The algae is pumped and siphoned into a bioprocessor at the building's base and then refined into fuel.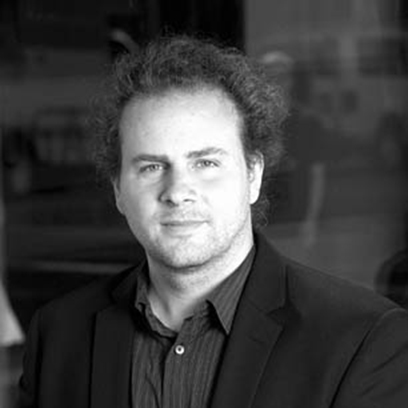 Mitchell Joachim is a leading figure in ecological design, architecture, and urbanism. He is the founding co-president of Terreform ONE, a nonprofit organization for philanthropic architecture, urban, ecological design, and is a partner at Planetary ONE, a cross-disciplinary partnership of designers and scientists. Before coming to NYU, Professor Joachim was an architect at Gehry Partners and Pei Cobb Freed, served as the Frank Gehry Chair at the University of Toronto, and taught at Pratt, Columbia, Syracuse, the University of Washington, and Parsons School of Design.
Professor Joachim and Nina Tandon's book, Super Cells: Building with Biology, was published by TED Books in 2014.